Supported by

SFB/TR 45:
Moduli, periods, and arithmetic
of algebraic varieties
ERC Advanced Grant (H. Esnault)
A.-v.-Humboldt professorship (M. Levine)
News
Conference foto, Feb. 18, 2010
Conference dates, Dec. 16, 2009
To avoid any confusion, we want to point out that the conference starts on Tuesday and lasts until Saturday! The reason is that Monday of the conference week is Rosenmontag, i.e., Carnival Monday, and although Essen is not one of the principal Carnival cities in Germany, the university will be closed on Monday. Since Monday will be the arrival day for most of the participants, you should be aware that if you come via Köln (Cologne) or Düsseldorf you will see a lot of Carnival.
Conference poster, Sept. 10, 2009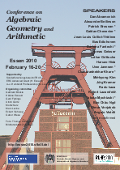 We produced a conference poster, and are in the process of sending out printed copies. If you would like to post one at your department, just drop us a note. A pdf is available, too.
Essen and Istanbul - European capitals of culture 2010, June 30, 2009
Essen (and the Ruhr region) is one of the European capitals of culture 2010 - so there will be many interesting events to attend during your spare time.
One of the other European capitals of culture 2010 is Istanbul, and because of this we especially invite young Turkish mathematicians who work in the fields of algebraic geometry and arithmetics to participate in the conference, and apply for funding, if necessary.
Website launched, April 27, 2009
Now that the date of the conference is fixed and the list of speakers is growing, we have launched the web site with some information, and a form to register as a participant. Funding is available to a limited extent. If you need funding, please indicate this in the registration form. Further information about the social program etc. will follow soon.